"How did you come to work with Bob Kauflin?" I've heard that question a lot in the last 6-7 months. The short answer is, I asked. The longer answer covers about a decade. Let me share it with you.
I've appreciated Bob Kauflin before I knew who he was. Before he was with Sovereign Grace Music, Bob was part of the group GLAD. Their biggest hits and most enduring contributions to Christian music were a capella pieces. I'm still haunted by the beauty and doctrine of Bob's original song "In the First Light" and by their poignant renderings of "And Can It Be" and "And This Is Love." So as a teen, I was edified. I just didn't know by whom.
Around a decade ago I became aware of new Kauflin songs. "The Gospel Song." "Mercies Anew." "O Great God"—my favorite, both for its Puritan roots, its vivid imagery of God's battle on my beloved soul, and its sturdy and congregation-friendly tune. I sat under Bob's leading of the music at the first T4G, in 2006, then again in 2008. I blogged a good-natured but still snarky comment about how the sound of thousands of men singing to simple piano accompaniment was glorious, even if it required that Kauflin be kept in a straitjacket. Something like that. When the first T4G congregational recording was released in 2008, Bob's leadership from the piano—complete with shouts of "Yes!" that occasionally made my little girls jump at the breakfast table—became a normal part of my playlist.
Around that same time I wrote the text to "His Robes for Mine." I'd actually been writing it in my head and heart for over a decade, ever since hearing Michael Barrett preach on Zechariah 3 and justification. (Go ahead! Look it up!) I had set the text to EVENTIDE (William H. Monk's tune used with the hymn "Abide with Me"), and it fit the pathos well. I wrote to Bob to ask for advice on the text. He reviewed it, and he very kindly replied that it was probably the best unpublished text he'd ever read. But he pressed me to give it a fresh tune rather than tying it to one already associated with a classic text. I sent the text to Greg Habegger, and he promptly wrote the best melody he'll ever write! Greg is a tune-writing genius. But thanks also goes to Bob, whether he remembers giving the advice or not. (So thanks, Bob!)
Fast forward to the end of 2016. Bob and I had talked of collaborating for a while. (I had talked, via email, and he had kind of nodded and mumbled, "Sure, that would be great. Uh huh.") With the 500th anniversary of the Protestant Reformation looming, I had the idea of writing a hymn on the 5 solas. I tend to write very structured and progressing texts anyway, so this was ideal for me. I sent him my first draft of 5 short verses, and he bit! Eventually, he sent back his idea for 2 double-length verses and a celebratory chorus that would make SDG the center of the piece. We pitched lyrical and musical suggestions back and forth for a month or so until we finally had a finished product. Zach Taylor lent us his talents to record a here). We've been encouraged to hear that it's being used around the globe. (Literally!)
Molly Ijames, an accomplished arranger, asked if she could set the song for choir and congregation. Sure! With but a short time before Reformation Sunday, we decided to release it as a downloadable and reproducible octavo through ChurchWorksMedia. You can find it here. Even if your congregation is already using the hymn, this is a perfect way to embellish it for Reformation Sunday, October 29th. Use this once-in-500-years event as an excuse to make your entire congregation a choir.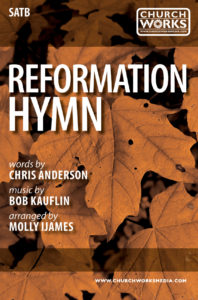 Writing "Reformation Hymn" with Bob has been a joy. What could be a better source of Christian fellowship and worship than these 5 foundational truths? We believe in the absolute authority of Scripture alone, not man's shifting opinions. We are saved by grace alone, through faith alone, in Christ alone—not by our merit but by the vicarious life and death of Jesus Christ. And all of this results in God's glory alone. We hope that this song will serve the church and exalt her Savior during the 500th anniversary of the Reformation and beyond. Grace!