YOU ARE ALWAYS GOOD
Words by Chris Anderson; Music by Jonathan Hamilton
Tune name: CHLOE
(This song is available from Church Works Media courtesy of Majesty Music.)
_______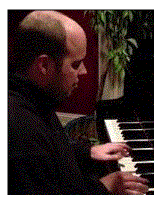 I was overwhelmed when Ron and Shelly Hamilton asked me to write a text for one of the tunes composed by their son Jonathan. His death was a tragedy to their family, but they have responded with faith and grace that can only be traced to our Heavenly Father. I considered the charge a solemn responsibility, and I desired to honor Jonathan, comfort those who loved Him, and magnify His Savior. The result is "You Are Always Good," a text which I believe encapsulates the experience of Jonathan, his family, and every true Christian.
Chris Anderson
_______
Looking back, I can see Your fingerprints
Upon my life, always seeking my best.
There were times when Your way would make no sense,
But as You said, You have never left.
Chorus:
You are always good, You are only good;
You are always good to me.
Though my eyes can't see, help my heart believe
You are always, only good.
Looking in, I can see my frailty;
My sin is great, and my strength is so small.
Still You stay, and Your mercy shelters me;
You hold my hand, and You hear my call.
Looking up, I can see Your sympathy;
I doubt myself, but I'm sure of Your love.
Lavish grace was poured out at Calvary,
Securing me for our home above.
© 2014 Majesty Music Inc. All rights reserved. Free download provided by Church Works Media.
_______
DOCTRINAL NOTES
by Chris Anderson
Because God delights in worship that is biblical, thoughtful and passionate—what we often call intentional—please consider the following overview of the biblical texts and doctrinal themes behind the hymn "You Are Always Good":
Verse 1 recalls God's sovereignty—His fingerprints upon our lives—even as it acknowledges the times when His plans are a mystery to us (Romans 8:28-29; Psalm 115:3). Even in the most trying of times, God is faithful to His oft-repeated promises that He will never leave or forsake us (Hebrews 13:5; Deuteronomy 31:6; Isaiah 43:1-2).
The refrain reminds us that God is always good and only good. Though the word may seem simple, Scripture uses it repeatedly as a testament to God's benevolence (Psalm 34:8; 84:11; 100:5; John 10:11, 14). He acts for the glory of His name and the good of His children. We believe it, even when we can't see it.
Verse 2 encourages us that God's faithfulness to us in entirely in spite of us. When we examine ourselves, we see only sin and weakness. Thankfully, the Lord's grip on us is stronger than our grip on Him. On our worst days, the Lord's love for us is unchanged. He is ever with us, sheltering and sustaining us (Psalm 37:23-24; Deuteronomy 33:27a; John 10:27-29).
Verse 3 prompts Christians to look upward, not inward. There we see a God who is full of compassion (Psalm 103:8-14). We are justified in doubting ourselves, but our God is entirely trustworthy (2 Timothy 3:13; Lamentations 3:23). The crowning expression of God's great goodness is the giving of His own Son to be our Savior and to secure our eternal fellowship with Himself (Romans 8:32; 1 Peter 3:18).
May the Lord use this song to remind us of His unfailing goodness, even on our darkest days. Grace!